A: No, under current zoning, the city center IS being built up and filled in. For example, one area, the South of Laurel area, is currently zoned to allow 1,200 units and heights of 5 to 7 stories, up to 8 stories with the State density bonus.
This initiative will truly protect your neighborhood by requiring a vote of the people when developers try to exceed the current City height and density limits.
Rezoning South of Laurel to allow 12-story buildings will set a precedent to allow taller, unaffordable buildings in the rest of our town.
This initiative is about letting the community participate in a democratic way and vote on whether they want their city rezoned to 12-stories or more!
Some areas of downtown are currently zoned for up to 85 feet (or about 8 stories) and now with the State Density Bonus Law, builders are allowed to build even higher.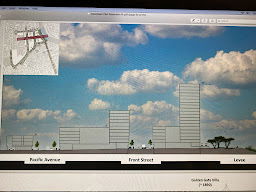 The above and below pictures shows the heights of buildings that were under consideration, which originally limited the number of buildings and the location of the building.
However under the current proposal, there is no limit on the number or location of these tall buildings.
12 stories or 145 feet is more than one and a half times as tall as the tallest structure, the Palomar, which is 86 feet.
The citizens deserve a right to vote when builders want to break the current height limits.